The outsiders who may become N.B. political kings – The Daily Gleaner – 23 June 2018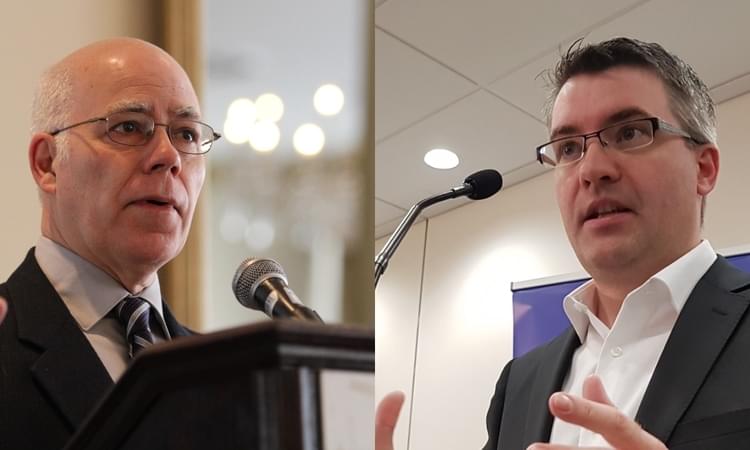 Article by: KATRINA CLARKE
The race is looking tight. The legislative assembly could be split down the middle.
And two men could hold the balance of power.
David Coon, leader of the Green party, and Kris Austin, leader of the People's Alliance, both have good chances of re-election and election in their respective ridings in the upcoming provincial election, say political watchers. And what this means for New Brunswick politics could be big if the election is close: these men could become kingmakers, holding the power to turn a minority government into a majority, or at least force government to bend to their will when it's time to vote on legislation.
And regardless of how wide of slim the margin of seats between the Liberals and the Progressive Conservatives, at the very least, the election of these "outsiders" could jump-start debates, injecting life into the stagnant politics New Brunswickers have endured for years, say politics professors.
Here's a look at how the election of two men could turn New Brunswick politics on its head come September:
What could it mean?

Expect a political shake-up if Coon is re-elected or Austin gets in, said Donald Wright, professor of political science at the University of New Brunswick.
"In very broad strokes, I would say that their election would be healthy," Wright said. "New Brunswick politics has been, I would argue, thwarted by the Tweedledum and Tweedledee, the … perspectives of the Liberal and the [Progressive] Conservative [parties]."
MLAs from parties not in government or opposition, beholden to no one, can jostle the status quo – regardless of the limitations of their power – holding both government and opposition to account and stirring up debate in the legislature, in committees and public forums, he said.
Wright said that's been Coon's modus operandi all along.
"I'd argue that David has basically functioned as the de facto leader of the opposition in the legislature," he said. "On so many files, the Liberal and the Conservatives agree, or their disagreements are so narrow as to be pointless."
Could they be kingmakers?

It's unlikely, but not impossible, that the election is so close Coon and Austin could hold the balance of power, said Tom Bateman, associate professor of politics at St. Thomas University.
But how it would come to that is complicated and circumstantial.
For instance, if the election is so close that the Liberals and PCs earn 24 and 23 seats respectively and Coon and Austin are both elected, Gallant is likely to stay in power, but may still rely on Coon and Austin for votes, said Geoff Martin, an assistant professor of politics and international relations at Mount Allison University.
In such a case, Lt.-Gov. Jocelyne Roy Vienneau would likely approach Coon and Austin, asking which party they prefer to be in power, Martin said.
"If they were both to say the same leader, the same party [the Liberals], the lieutenant-governor is likely to give the Gallant government a chance," he said.
She might allow the government to continue even if Coon and Austin are split, he said.
In another scenario, the Liberals might try to convince a Tory member to become speaker, a role that requires sacrificing voting rights – unless there is a tie – or convincing Coon or Austin to step into that role. Either move would avoid the loss of a Liberal member's vote, he said.
Still, to give up partisanship would mark them as "total sellouts," he said.
Martin said a minority government is unlikely – New Brunswick hasn't had one in recent memory – and so too is the possibility that a member of a non-government party would offer to become speaker. But it did happen – back in 2006, during Bernard Lord's shaky government, when an independent member took the speaker's seat.
But Bateman, too, says it would be unlikely that a member of any party other than the governing one would volunteer for the speaker position.
As for the possibility Coon or Austin would join a formal coalition – either with a minority government or with the opposition party, effectively overthrowing the governing minority party – it could happen, he said. Again, the lieutenant-governor would need to sign off on the move.
What might be more likely is that Coon and Austin would be wooed by the government each time it needs to vote on legislation, he said. If government can't find enough votes to pass a budget or important legislation – say, on campaign promises – the government would fall, he said.
This puts the power in the hands of people like Coon and Austin.
Either a loose or formal coalition could allow either to say: "Give me what I want in exchange for the vote or I'm going to pull the plug on your and you're going to have to resign," Bateman said.
Do they want the power?

Coon says no.
He recalled a moment during the last election when it appeared he might hold the balance of power.
"People said, 'Oh, you must have been excited,'" he said. "I said, 'Absolutely not.' That would be the worst thing as an individual MLA to be in the position of holding the balance of power. Everyone would have huge expectations … you wouldn't be able to deliver on them."
Coon said he'd rather see a strong Green caucus in the legislature. That reality is more likely to be achieved if the voting system itself changes from first-past-the-post to proportional representation, which Coon supports.
"[Proportional representation] drives collaboration among the parties," he said. "It requires co-operation. That's what we need if we're going to address the real challenges the province is facing."
Bateman understands where Coon's coming from.
"If … the government does fall, then government says, 'Listen we've been trying to do the public's business. We've got important things to do and who stood us up? Who has stood in the way of legislative progress? Who has ground this province to a halt?'" Bateman said. "'Him! He did it.'"
Austin, however, said nothing is off the table.
Ideally, he wants the People's Alliance to form government, but falling short of that, a minority government where his party could hold the balance of power is the next best option, he said.
"Frankly, that would be just as close to being as beneficial as being in government," he said. "It creates an atmosphere in government where all the parties have to negotiate, compromise and work together."
He said he would support a "good bill" from any party. Decisions would be made on a case-by-case basis, he said.
Are their elections likely?
Yes, said Martin.
"Coon and Austin have the best chance of those [non-Liberal, non-PC] parties of winning a seat," he said.
Coon has proven himself to be a strong leader and Austin has the populist appeal that Progressive Conservative leader Blaine Higgs lacks, he said.
The last election showed voters are shifting support to the outsider parties – at least in Coon and Austin's respective ridings.
In the 2014 election, Coon became the first Green to hold a seat in the legislature, winning his Fredericton South riding with around 30 per cent of the vote. He beat out incumbent Progressive Conservative Craig Leonard who garnered 26 per cent of the vote.
Austin lost the election in Fredericton-Grand Lake to Progressive Conservative Pam Lynch by just 26 votes.
And the candidates running in those ridings disagree with Martin's assessment that the ridings are Coon and Austin's to lose.
Lynch, the PC incumbent, argues a vote for Austin is a vote for the Gallant Liberals.
"Let's face it, the People's Alliance, they don't even have enough candidates to form government," she said, referring to the party's current roster of 18 candidates. "Wouldn't you want someone at the table to bring things to your region? … Kris would not be at the table, therefore nothing would get done."
The Liberal candidate, Wendy Tremblay, said Fredericton-Grand Lake needs a strong Liberal voice and she is up to the task.
In Fredericton South, PC candidate Scott Smith said the same thing about Coon that Lynch said about Austin.
"With all due respect to David Coon, a vote for him is a vote for four more years of Brian Gallant," Smith said. "As someone with a strong environmental background and a passion for community involvement, voters can have the same qualities that they loved about David Coon except in an MLA who is potentially in government and can actually accomplish things on their behalf."
Susan Holt, the Liberal candidate for Fredericton South, said she believes voters will support her because of her ability to affect real change.
"I will bring my strong voice, my independent spirit, and my collaborative nature to all the decision-making tables," she said.
Of course, with an election still three months away, candidates have plenty of time to battle for votes – and voters have plenty of time to shift their preferences.
"It's reading the tea leaves," said UNB's Donald Wright. "It's impossible to predict the future at this point … whether they will be potential kingmakers."