Auditor rings alarm bells over N.B.'s debt months before provincial election – Times Colonist – 12 June 2018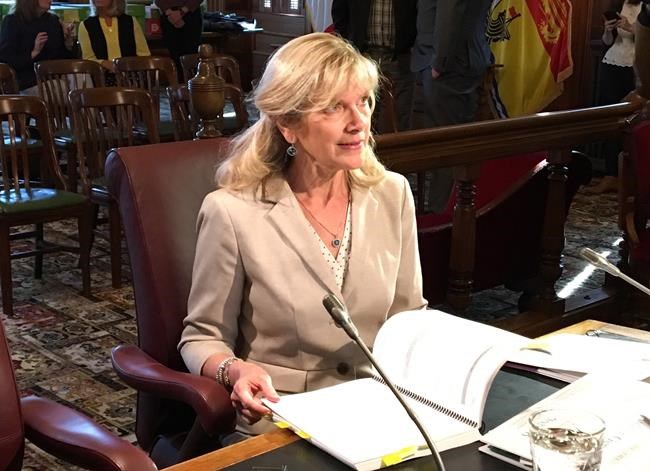 "The government stopped on its progress in reducing the deficit and the books should have been balanced for next year, and that's not happening. P.E.I. is balanced, Nova Scotia is balanced and we should be balanced," Coon said.
Article by: Kevin Bissett, The Canadian Press
FREDERICTON — With a New Brunswick election just months away, the auditor general is sounding the alarm over the province's fast-growing debt.
Kim MacPherson said Tuesday she is deeply troubled by the fiscal decline — pointing to a $7-billion increase in net debt over the last 10 years.
"As I have reported repeatedly, this net debt growth is not sustainable," she said as she released Volume One of her 2018 report.
The debt is expected to hit $14.4 billion by the end of March 2019; the government spent $700 million in interest last year just to service the debt.
"If this interest cost was a department, its budget would be larger than the Department of Transportation and Infrastructure," she said.
"If this continues, eventually governments will not be able to provide the same level of programs and services such as health care, education, roads, schools and hospitals."
MacPherson said New Brunswick is on track for its 11th consecutive deficit, and there is no immediate plan to address it.
Tom Bateman, a political scientist at St. Thomas University, said the province's finances should be a key issue in the campaign for the Sept. 24 election. But he said most voters and politicians are only interested in short-term promises.
"It's short- and medium-term pain for longer-term gain and this is a problem for which the solution is over many years or decades, but the political election cycle is four years long," Bateman said.
Green Leader David Coon said it is time the province got its finances under control.
"The government stopped on its progress in reducing the deficit and the books should have been balanced for next year, and that's not happening. P.E.I. is balanced, Nova Scotia is balanced and we should be balanced," Coon said.
MacPherson said she isn't getting political — and pointed out the fiscal issues have been there over successive governments.
"Getting a handle on this problem will be like turning the Titanic … it will take time," she said.
The Dominion Bond Rating Service recently downgraded the province's rating trend from stable to negative. In a news release, DBRS stated: "New Brunswick's 2018 budget once again delays the return to balance in favour of new spending ahead of the 2018 provincial election."
Meanwhile Moody's Investor Service stated: "The stalled progression on deficit reduction is credit negative for the province which has not posted a balanced budget since 2007-2008 and is not planning a balanced budget until 2021-2022, resulting in one of one of the longest period of continued deficits among Canadian provinces following the 2008-2009 financial crisis."
MacPherson said the rating agencies' reaction should be a major concern to government.
Included in her review of government spending, MacPherson found that in five of the last 10 years, governments overspent their budgets prior to obtaining approval from the legislative assembly.
She called for the release of audited financial statements before the Sept. 24 provincial election.
Treasury Board President Roger Melanson said in a statement the audited figures will be released before New Brunswickers go to the polls, but did not give an exact date.
Melanson defends the Liberal government's handling of the books, saying they are taking a balanced approach.
"I think if you speak to New Brunswickers, they want to see investment where it's strategic and going to grow the economy and give them an opportunity to have a job. That's what we have been focused on," he said.
MacPherson is also asking for more money for her office, saying a lack of resources is eroding her independence. She wants her budget increased by $250,000 in each of the next four years.
Progressive Conservative Leader Blaine Higgs said Tuesday, that if elected, he'd give her that money.
"We need to have the ability to have the auditor general look under the hood, look at decisions being made and make them accountable in every way, shape and form. We can't keep talking about this, we've got to find the solutions and have to expose the way money is being spent and tax dollars are being wasted," Higgs said.
MacPherson also used her report to point out what she calls an unacceptable lack of addiction and mental health services in adult correctional institutions.
She said that without adequate treatment, inmates can pose a risk to themselves and the public.
The government responded Tuesday, saying a provincial committee will be tasked to look into the auditor general's concerns.